The feud between Google and the Chinese government over internet censorship has been around for a while now. But recently, Google has called China's censors and raised the stakes with new software to its search results page that is designed to warn a user that their search term is likely to be blocked. In effect this new warning will tell the Chinese user that no, you can't search a certain term or person because your government doesn't want you to. Take that Chinese censors!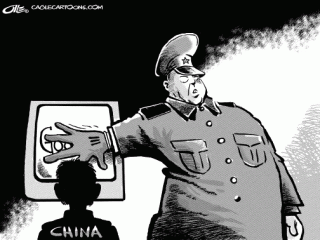 But being the sly devils they are, the folks at Google are claiming that the reasoning behind the added software is not to alert Chinese citizens of their oppression but to improve the user experience. As it states in their blog post, Google is just trying to address the problem many searches in China face: where they can be disconnected from Google unexpectedly and without any explanation when they try to open websites that were discovered by using a flagged (censored) search term. According to Google, which has checked that there were no software issues on their end, it is the Chinese government's policies regarding online censorship that is causing the issue.
This explanation may not be all in jest however. Google, which has seen its market share in mainland China drop close to 17% from 35.6%, may be attempting to combat the censorship issue as well as gain back their unhappy uses. According to Analysys International, an internet consulting company specializing in China, users have been growing weary of blocked websites and these Google "disconnects" can force them to wait more than a minute before they can attempt another search. That's almost a century in internet years.
Google's announcement says that users have been frustrated by error messages and disconnects and that Google engineers have
taken a long, hard look at our systems and have not found any problems. However, after digging into user reports, we've noticed that these interruptions are closely correlated with searches for a particular subset of terms. So starting today we'll notify users in mainland China when they enter a keyword that may cause connection issues."
The YouTube video below shows just how frustrating it must be to use the internet in China.
The blg post, which was written by Alan Eustace who is an SVP overseeing search services, went on to state that Google has analyzed 350,000 popular search terms that resulted in an error. Now, whenever a user enters those search terms into Google, they will be warned with a yellow "may temporarily break your connection to Google. This interruption is outside Google's control." They are then asked if they would like to proceed or enter a different search query.
Whatever Google's primary motives, I hope the new software will raise awareness about the Chinese government's censorship policies. Policies which are suspected of causing other issues for Google which has been experiencing  problems with its gmail services as well as a blocked Google+. I suspect that the Chinese government will retaliate in its usual fashion and attempt to further censor the information its citizens may access.