So you've finally bought one of those fancy new e-readers that everyone these days is talking about. Like many an American out there, you want to do a little light reading before you go to bed. Nothing out of sorts there; bedtime reading is one of the great American past times and would be one of the chief uses of these e-readers. Especially since they supposedly help you sleep. However, there's a problem: most of them have no backlight. This can be a deal breaker for many consumers, but companies like M-Edge are here to help.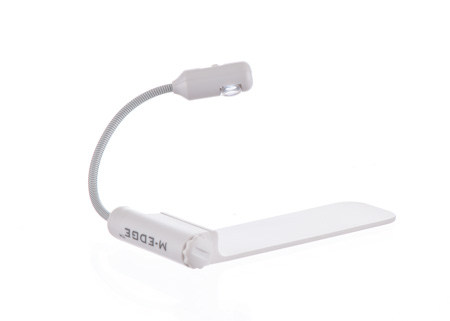 The M-Edge e-Luminator 2 Booklight isn't exactly a complicated device. It snaps right into your M-Edge jacket and allows you to adjust the neck of the light to contour to your reading style and position. It'll take roughly two seconds to figure out once you have it out of the package. No matter how you want to lay or position yourself, the neck will adjust with the dexterity of a pipe cleaner but obviously sturdier. It's extremely flexible for any kind of position you'd need it for. It can't make loops and other frivolous shapes like that, as it's just designed for aiding you read from your M-Edge Jacket.
But that's the only problem with the booklight: it only works with your M-Edge Jacket. It is designed to fit inside a given pocket on the jacket, in the middle, so that it allows you maximum dexterity within the M-Edge cover or jacket. There is no way to attach the gadget to the Kindle or Nook or e-reader of your choice without one of these. It's essentially a package deal to get one of the best booklights out there, but is well worth your money considering the quality of the said covers. At least the light can easily be stored within the pocket that it snaps into, providing easy storage and decreasing the likelihood greatly that you would ever lose the device.
Now onto the merits of the booklight itself. There are two settings, besides "off," on the device. You can turn the light on to half capacity or turn it to "two dots" which is a much brighter light that will absorb more battery life. The differences are slight as both of them are quite bright and can easily light up your e-reader in the dark. There is a little more power obviously in the latter setting for special cases, but in most the first setting will suffice. It's one of the stronger booklights I've ever seen and operates on only one battery. And that one AAA battery will probably be able to serve you for a while as most of the time a light for an e-reader is unnecessary. Their inherent lack of glare many times nullifies this need, but in poorly lit areas, booklights such as this one can help greatly.
The light itself spreads evenly over the entire screen of the e-reader, providing the best possible reading experience while using your new device. Lower quality booklights will just shine over one small part or amplify one part while rejecting others, but this one, admittedly one of the higher quality booklights out there, does its job perfectly.
There really isn't that much to say about the M-Edge e-Luminator 2 booklight. It does its job perfectly and easily makes up for the lack of a booklight on your e-reader. Also, as M-Edge makes products for nearly every e-reader out there, including iPad, this booklight will have the ability to snap into the jackets of Kindles, Nooks, iPads and whatever future device M-Edge constructs a jacket for. All you need is any kind of M-Edge jacket, and this light will illuminate your reading experience.