Following the excellence that was NHL 10, EA Canada really had to step their game up to top what they did last year. This year's edition followed in the footsteps of the last one, only introducing small new features along with gameplay fixes but they've also laid the foundation for the next couple years, showing that this game will have a life span beyond just the next couple of years. So finally, here's my review of NHL 11.
When you first fire up the game, you'll notice that this game REALLY took some inspiration from last year's title as they even have another Chicago Blackhawk, Jonathan Toews, following Patrick "20 cent" Kane on the cover last year. For whatever reason, Ducks goalie Jonas Hiller also made it into the game's intro. i would've preferred if it was Ryan Miller and he was stopping Toews's shot, but that's just the proud American inside of me coming out.
The two biggest changes within the gameplay aspect of NHL 11 are broken sticks and the addition of a new physics engine to the game. The broken sticks can kind of become a nuisance sometimes but that's exactly what they are in the real life NHL, so I have no qualms with what EA has done with their addition. They break, the fall and sometimes players even give defenders their stick if it broke, so it really captures hockey. It's one of those things that doesn't add to the fun of the game but if you're in it for the simulation aspect, then you'll embrace it no matter how frustrating it is.
The physics engine is really one of the great additions to sports games in the last few years. In the last few iterations of this game, if you hit a guy hard, there was one certain animation while if you hit someone against the boards, there was a different one. In NHL 11, every hit looks different and the addition of the manual hip check really lets you throw guys over. Even when you lower the hitting power as it can sometimes be ridiculous, there are still big hits if you line somebody up. The best part is that when you do line somebody up and actually knock them into next week, it feels completely satisfying, like a steak dinner strangely. Sometimes the hits can look too big for body checks in front of the net, but you can just lower the hit power to fix that problem.
Faceoffs have also been completely revamped so they aren't just who hits the right stick faster. If you're using a big center like Evgeni Malkin, you can push around the other player so either you or your winger will be able to pick up the puck. You can aim where you want the puck to go, go backhand or forehand on the draw or just shoot it at the net if you win it cleanly enough. Granted that's a rare feat, but it's really rare in real life, so I have no problem with EA on that one. Sometimes it feels like bigger centers can get pushed around a little too much, but that's a problem that can easily be fixed by a patch or update.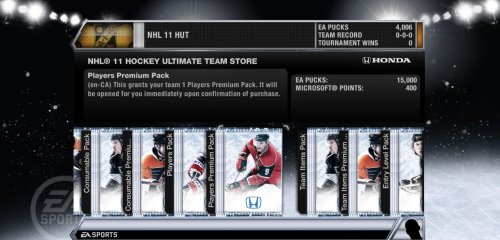 The new game mode addition this year is the NHL Ultimate Team Mode. You get packs of cards of random players and form teams to play against others online. If you don't want to go through Be a GM mode but still want a fantasy team, then this is the mode for you. You might randomly get Taylor Hall and Tyler Seguin to be on the same team as I did or get to match up Crosby vs. Malkin on the draw. There are a ton of opportunities through this mode. The only problem is that if you're willing to spend real life money, you can get more valuable packs which will set you ahead of your competition. This is the main problem people have with EA's micro transactions as they give people with cash to blow an advantage. But if they're willing to blow that money, then more power to them. Chances are there's going to be somebody better than you anyway, so at least you'll know what to complain about now.
The Be a GM mode has been slightly tweaked. The addition of the CHL really hasn't been realized yet. Sure there are a bunch more players like Hall, Seguin, Fowler and Kadri but the mode hasn't actually been tweaked to plan for them. The fantasy draft is still only 32 rounds long and a lot of quality prospects like Luca Caputi and sometimes even Brayden Schenn become free agents which should never happen. They did add another two rounds to the draft and ability to not give a contract to your picks for a couple years until they've earned it, as in the real NHL, so that's a welcomed additon. Restricted free agency has been added as well. So I can finally give up tons of draft picks for Carey Price! Yay! They don't really have the compensation right yet as it should cost more first round picks than just 2 to give Erik Johnson a 6 year, $55 million contract.
What I really want in next year's game is some kind of franchise mode for a CHL team. I want to act like Brent Sutter or Patrick Roy and know what it's like to recruit kids to play on your team and get them drafted and leave for the NHL. I feel like there's a vast potential for a new game mode there that hasn't been seen yet. You could lose your coaches to the NHL teams a la Sutter or Guy Boucher. I don't know if EA will do anything like this or just integrate the CHL and possibly NCAA into Be a GM mode next year, but here's to hoping.
The online portion really hasn't been tweaked that much but since the EASHL changes based on who plays it, they really don't have to add that much every year. The gameplay will tweak automatically on its own, so they really don't have to put that much work into it. The only problem is that the mode was seen as revolutionary in its first year but has lost a lot of its cache over the last couple. The same problem plagues Be a Pro. They added the ability to start in the CHL, but that only really seems like a time waster. While the EASHL does still have life thanks to the community, Be a Pro is becoming stale.
The soundtrack has also been done a little differently this year. Instead of all rock songs this year, there are a bunch of songs that are in the game specifically to be played in the arena during games. There's really no reason besides that for Ole!, The Final Countdown and Blitzkrieg Bop to be in the game. It does give the arenas a more authentic feel though, and that's really all you can ask. Though I felt like there should've been a magic show somewhere…
All in all, this is another fantastic effort from EA Canada in the NHL series. This is the longest sustained run of excellence for a sports game since Madden in the early 2000s and really doesn't show any sign of slowing down. The gameplay's excellent and Be a GM has its foundation laid for the next few years with the CHL. I really can't wait for next year's game. In the meantime, I'm gonna go team up Taylor and Tyler again (with Evander Kane on LW) and see what Steve Tambellini missed out on.